Hong Kong International Airport: Latest Disinfection Technology Measures
Hong Kong International Airport: Latest Disinfection Technology Measures
In an effort to prevent further spread of the COVID-19 outbreak, Hong Kong International Airport has caught a glimpse of what the future of air travel might look like. The Airport Authority of Hong Kong is applying the latest disinfection technology of full-body disinfection booth, autonomous cleaning robots and antimicrobial coating on high-touch surfaces.
Video by hkairportofficial / Youtube
Full-body Disinfection Booth
CLeanTech, an enclosed full-body disinfection booth, killing bacteria from head to toe. Before entering the booth, a temperature check will be conducted.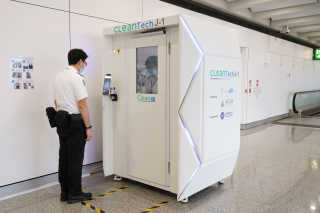 Image by Hong Kong Airport
The disinfection and sanitising process, which takes 40-seconds uses an antimicrobial coating on the interior surface of the booth which can remotely kill viruses and bacteria on human bodies and clothing by using "photocatalyst" and "nano needles." That's not all, sanitising spray will be applied for quick disinfection.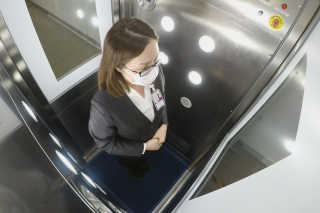 Image by Hong Kong Airport
In order to prevent cross-contamination between the outside and inside the environment, the booth is kept under negative pressure.
Autonomous Cleaning Robots
To make sure of disinfection of public areas and passengers facilities in Hong Kong International Airport, Intelligent Sterilization Robots equipped with ultraviolet light and air sterilizer is situated around the clock in a public washroom and key operating locations zone in the terminal. According to the Airport Authority of Hong Kong, the robots will be able to move autonomously and sterilize up to 99.99% of bacteria in the area and on surfaces in 10 minutes.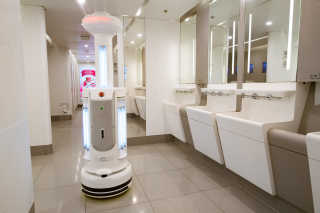 Intelligent Sterilization Robot / Image by Hong Kong Airport
Antimicrobial Coating On High-touch Surfaces
Last but not least, Hong Kong International Airport is carrying out a trial on the application of antimicrobial coating. This invisible coating will help to kill germs, bacteria and viruses that may exist on high-touch surfaces all around the terminal which includes the following but not limited:
Check-in counters and smart check-in kiosks
Elevator buttons
Handles and seats of passengers busses, Automated People Movers
Luggage trolleys
Seating areas in the terminal
Washrooms
In view of the results of this month-long trial, the Airport Authority of Hong Kong will assess and consider the further implementation of establishing this as a long-term disinfection measure.